What is Rapid Importing?
Top 5 Reasons to Rapid Importing
1- You save 30-50% by cutting out extra shipping, extra handling and big executive salaries!
2-We will find, source and deliver any product you want.
3-Delivery times on average is 3 weeks.
4-We can duplicate anything! Want a Yeti style drinkware? We have "very similar styles" at 1/2 the price. Why pay for the YETI name?
5-We are experts at this. No newbies here.
Promo Motive is a full-service, rapid importer of custom made, Pantone-matched promotional products that are delivered in 21 days from approval.
We look after your order every step of the way. As we like to say, From the factory floor to your clients door.
But what is rapid importing?
Rapid importing is the long-time specialty of Promo Motive.  Here's the best way to understand this.
Over the years, Promo Motive and its key people have traveled extensively to see and work with over 100 promotional product factories located throughout South East Asia and a handful of key domestic manufacturers here in the USA and Mexico.
Over the years and 1000's of custom factory direct orders, Promo Motive has helped distributors bring unique custom marketing products to their clients more quickly and more efficiently.
In fact, through its distributor partners, Promo Motive has made custom products for more than 200 of the Fortune 500 companies.
As a result, a number of our clients have told us "they consider that we are their (air quotes) "not so in-house" import and sourcing department. In fact a couple of our clients have actually had us become their full time import specialists, downsizing their own , expensive in-house solution.
Our clients also often use as a way to replicate and recreate products that have either gone of out stock or have become too expensive.
Our specialty is in rapidly importing, full-color imprinted and Pantone-matched products in 10 to 25 days or less fills a unique and creative solution for our marketer partners. Feel free to send us an email at [email protected]
Here's what we hope happens next!
We hope you found this video informative and fun. We also hope, it helps take the mystery out of how our personalized, direct from the factory, product sourcing service works for your distributor business.
E-MAIL US HERE TO SAY HELLO TO A REAL ACTUAL PERSON.
Here's A Few Ideas For Your Clients!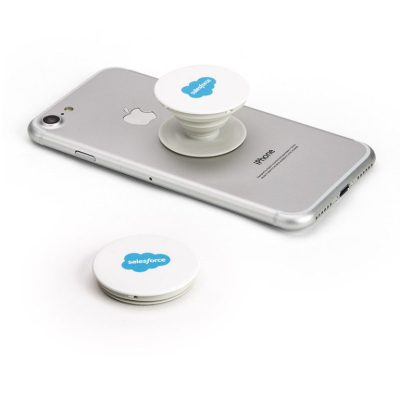 POP The phone socket.
3 years ago these were selling for $5, $8 and nearly $10 each. They were way too expensive. Now, as a factory direct option, you can get the amazing Pop phone socket for less than $2 at the smallest order quantity.
Here are the all-inclusive prices with free shipping, full color logo and all costs included.
250-499 units $1.88 each
500-999 units $1.38 each
1000 units $.98 each
Still a Nerd Winner. Rubiks Cube
The OG fidget toy, the Rubiks Cube now has a great new twist. All 6 sides can have a photographic quality image and your logo on it. How cool is that?
Forget the boring yellow, green and red and get totally creative. With our direct from the factory offer you can get an all-inclusive price that is unbeatable. Price includes logo on all 6 sides and free shipping.
250-499 $4.43 each
500-999 $4.08 each
1000 plus $3.88 each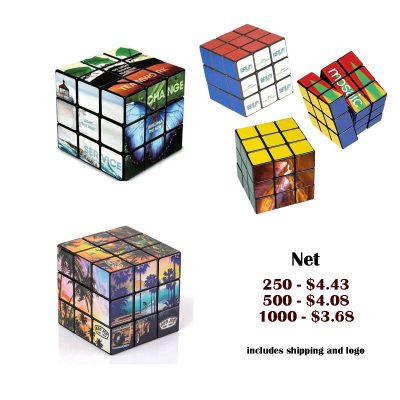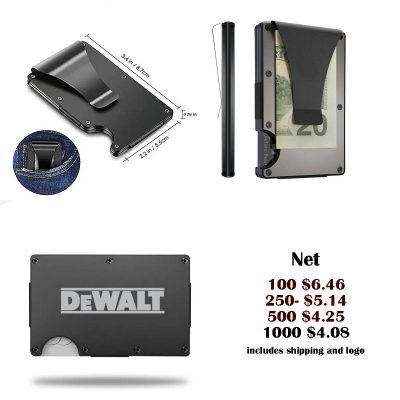 Ridgist RFID Blocking Wallet
The minimalist wallet is one of the hottest categories at retail and now it's available for your corporate or event logo. Stainless steel or carbon fiber. Comes with a hi tensile strength money clip, holds up to 8 cards and is RFID blocking. What is RFID? 
These are perfect for everyone and not only provides digital protection but makes your brand look amazing. Free shipping, free laser engraved logo.
100-249 $6.46 each
250-499 $5.14 each
500 plus $4.25 each
Brilliant Bespoke Drinkware
We have 5 factory's that produce drinkware for retailers and brands like Yeti, Swell and others. Put your logo on them, drop their logo and save 50% or more.
Let's be honest with ourselves. When you pay for a brand you pay too much. You are paying for their marketing, corporate profits and shareholder profits.
When you order through Promo Motive you are getting the exact same great products without their brand, and their high prices. Get smart, buy better.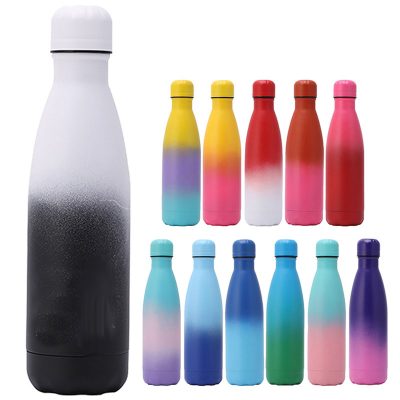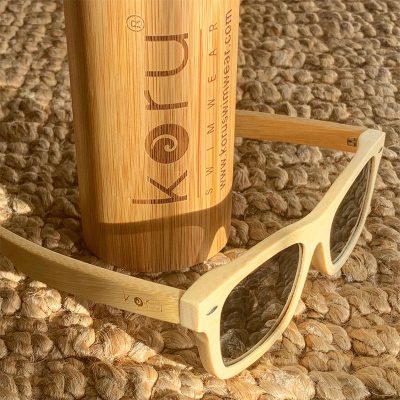 Go Green, Get Seen.
Let's consider the environment. We have one of the most unique and creative selection of eco-friendly marketing products.
Not only are eco friendly products great for the environment but they are amazingly good for your brand. Look at the bamboo sunglasses as an option.
Putting your logo on a custom bespoke eco friendly marketing products says to your clients and prospective customers that you are environmentally aware and concerned and that your business focuses on being responsible.
Bespoke Headwear
One of the things "that drive us crazy" is the cost that hat companies charge for the ballcaps, bucket hats and more. Quite simply, they take a $3 hat and add their labels and a couple of 10 cent touches and sell you the hat for $20, $30 even $40 bucks!
We use the same factory as Richardson, New Era and other brand name headwear companies. Think about it. Do you really think these hat brands have 1 factory that only makes hats for them? They don't.
Hat prices vary, but you can expect to pay about $4 – $5 bucks for 250 hats with your logo and shipping. Now, that's more reasonable isn't it?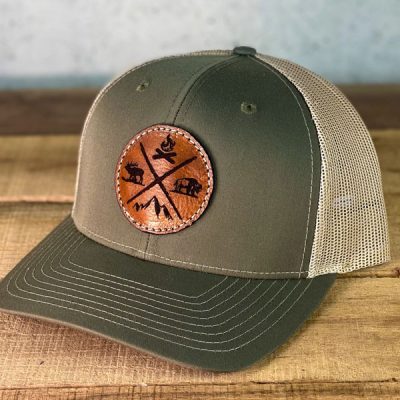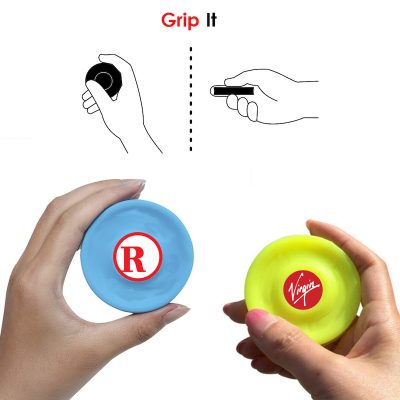 The Zip Chip Mini Flying Disc
Unique and creative ways to get your logo seen are our specialty. The Zip Chip is just one of them.
Throw it over 200 feet and this soft flying mini-disc will catch everyone's attention. Isn't that part of the point with marketing giveaways? Get eyeballs on your logo.
Check out the YouTube video on these. See it here.
250 are about $1.98 and prices go down from there.
Collapsible Reusable Travel Cup
Eco-friendly does not have to mean "big and bulky". As much as we love bamboo coffee cups and Swell bottles they can be bulky.
So, to be even more useful, we created the collapsible reusable silicone coffee mug. They come in a 12 ounce travel size (see here) or the 16 ounce Biggie (see here).
Ton's of colors, these "go anywhere cups" are the best way to get your logo seen and used.
Prices start at $5 to $6 and then go down from there.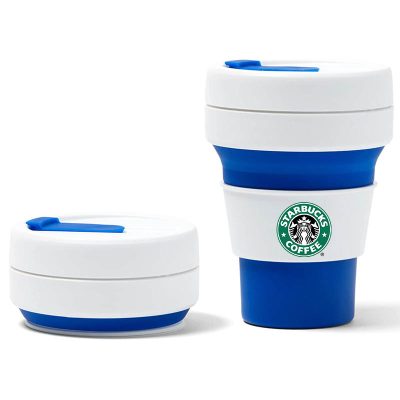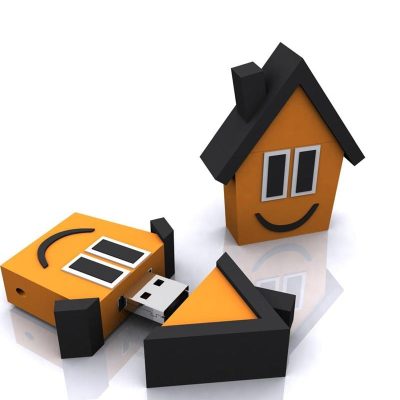 Custom Bespoke Flash Drives
Custom flash drives are at an all-time low price. We are the leading designer of the bespoke custom shaped flash drives. In fact our site Promo Crunch is dedicated to the art of design for them.
We can turn your idea, product or logo into a custom shaped 3D USB flash drive.
Memory sizes available range from 4 GB all the way to 256 GB. A lot of poper packed into a cute little idea!
New Tech Ideas
There is lots of tech ideas floating around these days. Some of them are rather crappy (IMO) while some are pure genius.
Pure genius best describes our wireless remote phone charger. Simply lay your phone down on the charging pad, no wires or connections and your phone charges fully and fast.
These are so popular they even come in bamboo and wheat straw versions along with the standard version.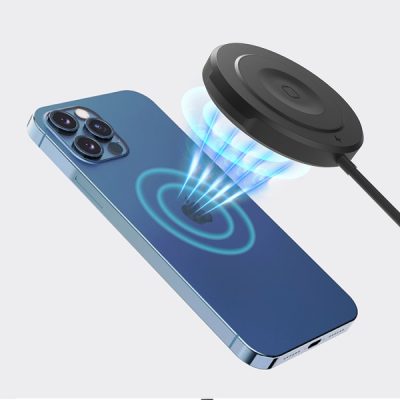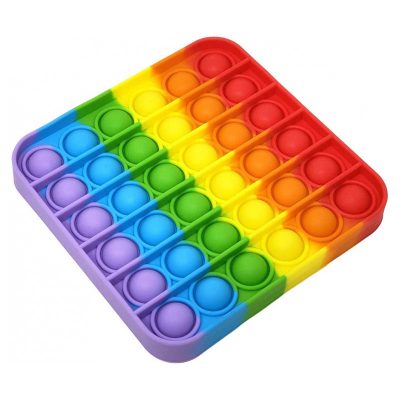 Are You Anxious?
Over the past 4 or 5 years the concept of fidget toys has become front and center in our world. It started with the fidget spinner and was followed by Fidget Sticks (see here), Silicone Pop Its (see here) Infinity Cubes (see here) , Fidget Cubes and much more.
Promo Motive specializes in these unique and fun-loving marketing ideas.
The reason they are so great is they release anxiety and at the same time ensure that the user is looking at your logo. Associating fun and relaxation with your brand. That's a good idea!
Let It Rain. You're Protected.
For over 10 years we have had a relation ship with the world's leading umbrella factory. In fact we have visited their factory a couple of time, impressive!
Umbrella's are definitely old school. But as they say "What was once old is new again!".
Get a custom bespoke umbrella with multi-colors, full overall logo sublimation, and custom touches.
Over 100 possible designs.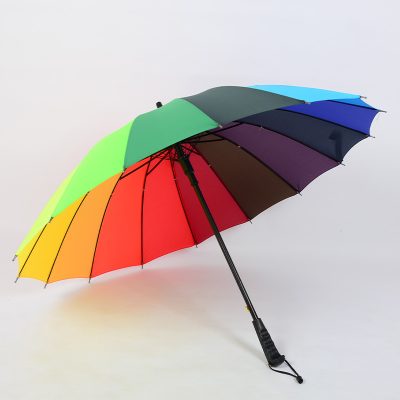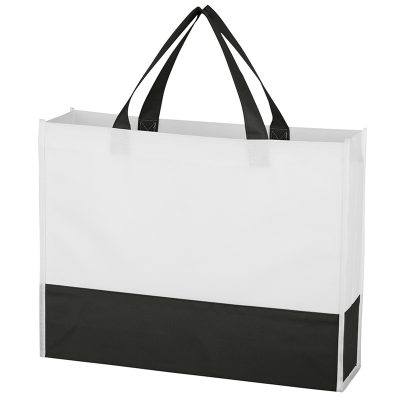 Custom Bags and Back Packs
Factory direct bags, shopping bags and back packs are one of the most effective ways to build your brand.
The bags we  offer range widely from eco-friendly Jute shopping bags, to bespoke custom back packs.
In fact, if you're looking for the ultimate in custom-made bags and back packs we are the source. Go factory direct and save money, plus get far more creativity in your marketing.
Trade Show Swag
Trade shows are an integral part of any businesses marketing plan. In today's marketing scene trade shows are taking on more and more importance.
Over the past few years we have all "become disconnected" in business. To combat this, the trade show has become the place, on a business level, to reconnect.
Trade show giveaways are best described as "Cheap and Cheerful!" Here is the idea we like most, the Popster phone stand and card wallet.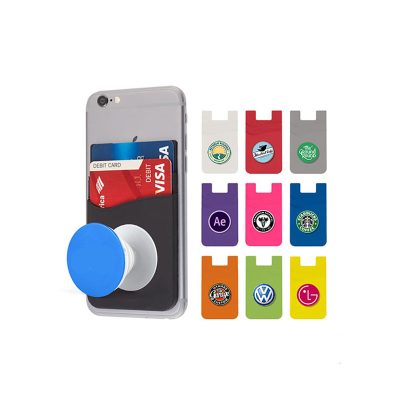 Promo Motive. Your Factory Supplier.
Promo Motive is a SUPPLIER of promotional products, trade show swag and creative office supplies. We specialize in getting your logo on them and delivering them to your door.
Think of us as your own product sourcing company.
GO TO OUR HOME PAGE- CLICK HERE -LET US KNOW WHAT YOU THINK 🙂
WHAT DOES OG MEAN?
OG is a slang term for someone who's incredibly exceptional, authentic, or "old-school." It can be earnestly used for a legend like Michael Jordan or more ironically, like for that friend who can unwrap a Starburst with their mouth.