The World's Best Minimalist Wallets
Minimalist Wallets. Get your logo on a minimalist EDC wallet. Minimalist wallets are a unique type of lightweight credit card holders designed to accommodate only your most critically essential everyday carry items: some money, an Identification card and a few credit or debit cards
Net Price Including Freight and Logo Basic Design
100-249 $4.98
250-499 $3.98 
500-999 $2.98
1000-2499 $2.88
2500 plus $2.68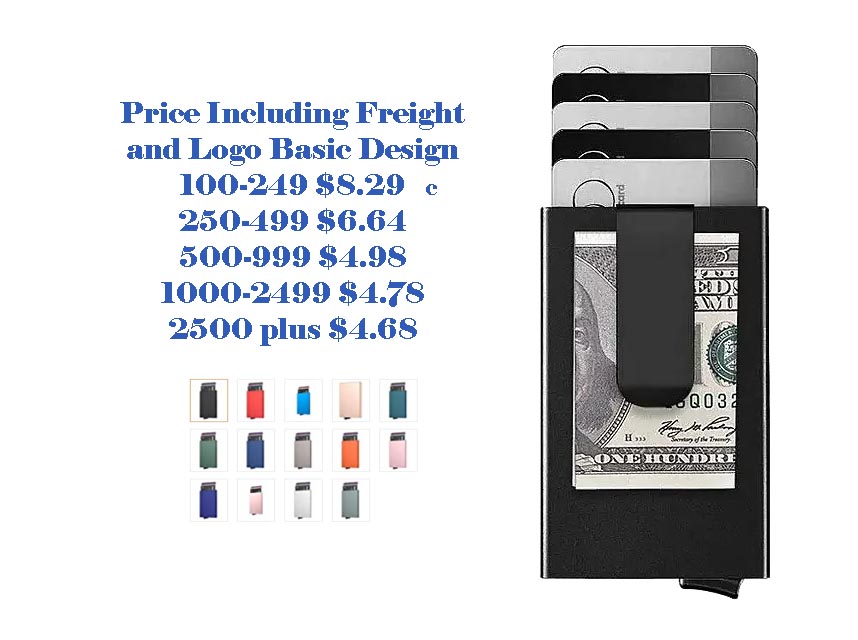 Want something different? Have a look at the Rdige style Minimalists wallet
Net Price Including Freight and Logo
100-249 $6.98
250-499 $6.18
500-999 $4.88
1000-2499 $4.48
2500 plus $3.98
Every time I look at the price that other suppliers are charging for these I want to choke!
They are not Gold bars, they are not Platinum earrings, they are not Alpaca shirts, they are Promotional EDC Minimalist Wallets!
Net Prices with FREE Shipping, No Set-Up, Free Design!
Why Promotional Minimalist Wallets so Awesome!
Brand Awareness: Minimalist Wallets are something that people use everyday. Thus, displaying your brand name on a
Minimalist Wallets is an excellent way to make people notice and gain awareness for your brand.
Uniqueness:
Minimalist Wallets are not something that you see everyday. Hence, you can easily stand out from your competitors using these 
Minimalist Wallets to promote your brand. In a business climate where traditional advertising simply does not cut it anymore, these wallets lets you differentiate your brand from all the others.
Utility: EDC Wallets are a necessity for almost everyone. Thus, giving away promotional EDC Wallets is sure to make customers appreciate your brand, as they are receiving something that they need. Maximizing utility for customers is always a smart move!
Highly Customizable: These custom EDC Wallets are customizable. There is a near endless possibility of ideas that you can choose for your brand!
Call 1-888-908-1481 or Email us
Our motto is "We Do Weird Well!"
What this really means is we specialize in sourcing the most interesting an eye-catching promotional products.
Even though your clients may occasionally buy basic pens and coffee cups we don't want that business. It's not what we do well.
What we do really well are products like Pop Phone Sockets – Folding Coffee Cups – Rubiks Cubes with full 6 sided logo , Ridge type wallets and Pop-it Silicone Toys.
Is this all the products we offer? Not even close!
We also supply  Custom 3D puzzles, RFID wallets, Every Day Carry Tools, Amazing Custom Leather Goods, Factory Fresh Hats, Factory Bags and Back Packs, Awesome Sublimated Wearables and more than 10,000 other factory direct ideas.
Put us to the test! We're here, for YOU!
Call us at 1-888-908-1481 or email us
Take 5 minutes on the phone and we will make you and your clients dreams come true. Or at the very least, their marketing ideas. Call -1-888-908-1481  Email Us.