Geek and Nerd Promo.
The most effective way to rebuild your clients business marketing and brand identity.
Geek and Nerd Promo encapsulates a wide array of ideas. From Minimalist wallets to the latest in fidget toys and a wide group of ideas in between.
The big reason Geek and Trend works is because its eye-catching, and eye-catching works well.
"It's absolutely true, the geek has inherited earth!"
The purpose of effective promotional products is to get your clients logo on an object where the logo or brand message can be reinforced in their mind. 
Custom Socks
" I cannot believe how much some distributors pay for custom socks. It's insane!" John Graham-CEO.
Socks are one of the highest margin items at both retail and in promo. The cost to actually make a single pair of socks is very, very small and the selling price is very high. Except when you buy your custom socks from Promo Motive. See our socks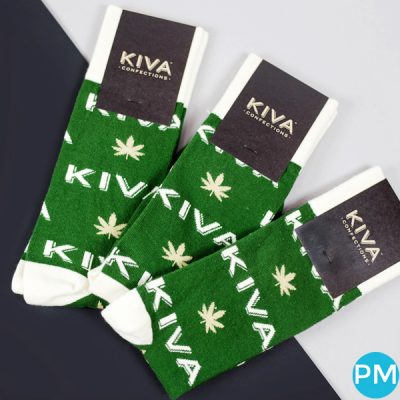 Rubiks Cube with 6 Sided Full Color Logo
"Did you know that the average user of a Rubik's Cube spends almost 2 years staring at the damn thing trying to figure it out? – Mrs. Rubik.
We offer you 4 different sizes of cubes and all can be custom and fully logo'd on all 6 sides. Our price? Almost half of the other guys. (the reason? Factory direct pricing). See our Cubes.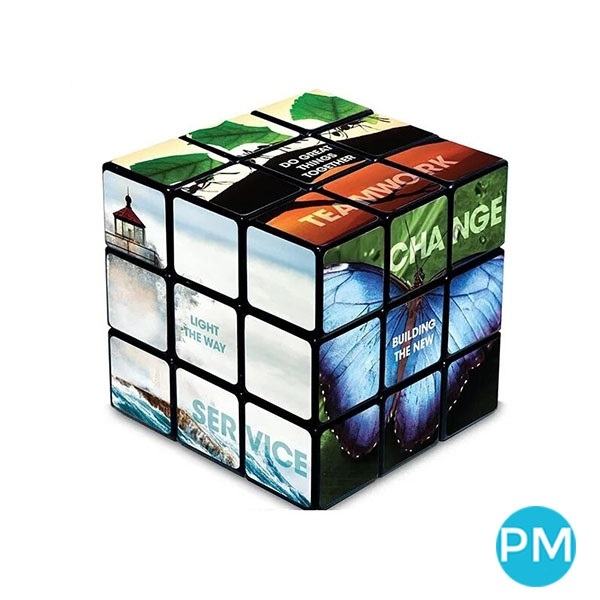 POP IT! – Silicone fidget popping thing!
"Every so often a weird idea comes from out of the blue and captures the attention of millions of people. These ideas are often inexplicable. This is one of them!" – Emily Graham
In the midst of the pandemic the Pop It Silicone Fidget Thing took off like a rocket. It soothes frazzled nerves and clears the mind. Now you can get your logo on it. See the POP IT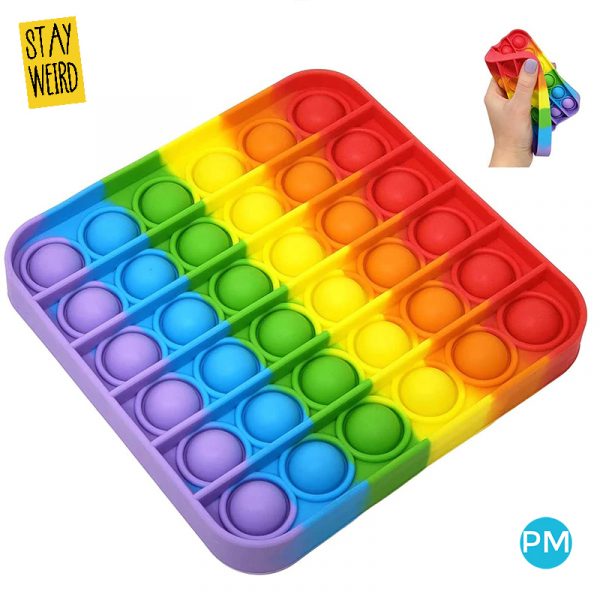 "It takes 7 impressions to make an impression!"
The old school pen and mug thing is dead. Gone. Kaput! If you suggest to your client that the best way to rebuild your brand post-covid is to go this, well, you're wrong! Here's a video we did when I was 30 lbs. heavier. OOOPS, thanks Covid. Also my shirt is inside out.
Once you've imprinted the logo 7 times the logo becomes an imprinted image in the mind.
Tyvek Waterproof Paper Wallet
"Waterproof, tearproof paper? What insanity is this?" -Gutenberg.
Believe it or not this is a HUGE trend at retail. Tyvek is a paper product primarily used in construction as a building wrap. It is waterproof and tearproof and takes an amazing full color imprint. Big brands like Starbucks and Ben and Jerry's are all getting their brand on the paper wallet.-See The Paper Wallet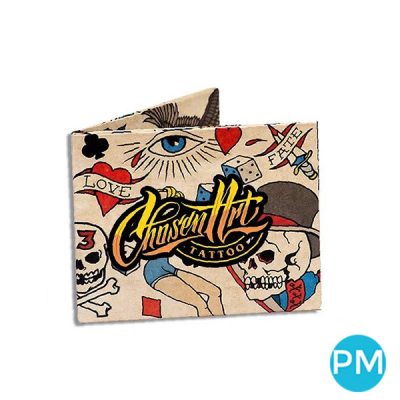 Minimalist EDC Wallets
"The old-fashioned leather wallet has gone the way of the Do-Do!" (Don't know what a Do-Do is and why they disappeared. Click)  
EDC (Every Day Carry) is a concept for gadgets and products that speak to a new way of looking at and using traditional products, such as wallets. Brands like Ridge and Secrid have created a whole new way to carry your credit cards and cash. See the Wallets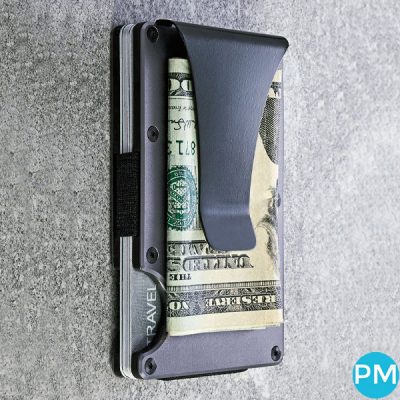 —————————————————————————————————————————————————————————————————————————————————————————————————————–
Welcome to the Insiders Promotional Product Distributors Page!
Who are you?
If you are at this secret page we have targeted you as leader and winner in the promo biz!
You are likely a promotional merchandise company with amazing marketing talent and the creative culture of an advertising agency.
You also love to leverage your combined talents and in the process have gained the trust of your best-loved clients
You and your team bring the clients in, you are a salesmaker!
Who is Promo Motive?
Promo Motive is a unique supplier to the promotional product distributor. We are small, agile, nimble yet aggressive. We only deal direct with the actual factories that make the promotional products.
In fact we have a direct sourcing agreement with over 150 factories in 10 different countries. We can and do source anything for your clients logo!
What we can offer you in products?
Our motto is "We Do Weird Well!"
What this really means is we specialize in sourcing the most interesting an eye-catching promotional products.
Even though your clients may occasionally buy basic pens and coffee cups we don't want that business. It's not what we do well.
What we do really well are products like Pop Phone Sockets – Folding Coffee Cups – Rubiks Cubes with full 6 sided logo , Ridge type wallets and Pop-it Silicone Toys.
Is this all the products we offer? Not even close!
We also supply  Custom 3D puzzles, RFID wallets, Every Day Carry Tools, Amazing Custom Leather Goods, Factory Fresh Hats, Factory Bags and Back Packs, Awesome Sublimated Wearables and more than 10,000 other factory direct ideas.
How do YOU benefit from working with Promo Motive?
During Covid we retooled and refocused our attention on the post pandemic promotional world.
The question we asked of ourselves. What was to be our role?
It is now our goal when working for you to do the  following:
All orders include FREE Shipping , No Set-up charges and we take care of all importation fees, duties and taxes. We will provide you 1 single all inclusive price for any order.
We will source you ANYTHING. Got a tough client request. We have over 150 factories located in 10 countries all of which we have dealt with over the past 20 plus years. Most factory responses take 24-48 hours at most!
We work on a teeny, tiny almost invisible margin. Yup, we will beat anyone's price.
Think of us as your "almost-inhouse" sourcing agent!
We are here for YOU! Put us to the test!
Call us at 1-888-908-1481 or email Emily.
We have everything you see below & more!
With 150 source factories, full-time employees at the factory level, in house importing and sourcing experts. There is NOTHING we will not try and source for you and your customer. Free product sourcing solutions.
Put us to the test! We're here, for YOU!
Call us at 1-888-908-1481 or email Emily.