As a Long-Time Supplier to the Promo Business We Have Come to Some Conclusions.
The Promo business is RIDICULOUS with all of their charges and extra costs and to be honest we think its just plain old B*#@*&?T!
If a Supplier is going to say the product cost is $2 (example) then adds an additional .98 cents in shipping, set ups, run charges etc the product is actually $2.98! Do these suppliers think you are STUPID?
"We Do It Differently…We Do Weird Well!"
Free Shipping
Shipping to your door or your clients door is always included in the price or the quote.
Free Set-Up
Charging for "set-ups" is ridiculous. It is a scam! If a supplier can't figure out that EVERY ORDER needs to be "set-up" then they are just ripping you off! No Set-Ups!
Free 4 Color
If the product can be logo'd in 4 color process we don't charge more than 1, 2 or 3 color. The same goes for the even more ridiculous "run-charge". No Run Charges!
Free Virtuals
Virtuals are always free. Afterall this is our part of the deal to help you sell our product.
Free Samples
Random samples are free. Get as many as you need. We do ask that you give us your ground courier account and the freight will cost you about $5-10. However, we CREDIT that to your account on your next order! So, Free Samples!
Free Pantone Match
Why would anyone charge extra to get the color correct? Ridiculous. Free Pantone Match.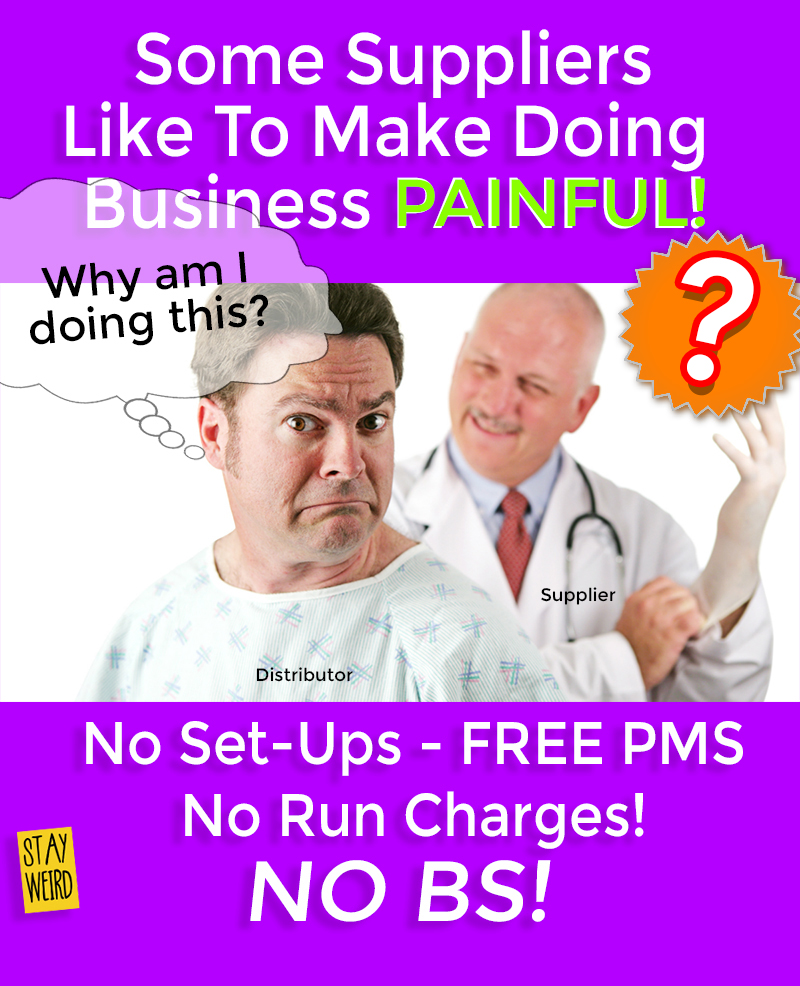 Contact Us: Call 1-888-908-1481 or Email Emily