2021. The end of the promotional product industry is near!
Or is it?
The supplier side of promotional product industry and more importantly much of their outdated business model has been struggling under the bloated weight of high overhead and high executive salaries for long time before Covid-19.
However with the emergence of Covid-19, the disastrous year that was 2020 and now well into 2021 the "bloom is definitely off the promo rose!"
4 Imprint is the promo industries largest player. Their losses and downgrade in market standing as a result of Covid-19 are nothing less than earth-shattering. Their revenue fell by 300 million dollars or minus 35%!  Their profit fell by a jaw-dropping 93% Download their report here.
See the front page of the annual report below.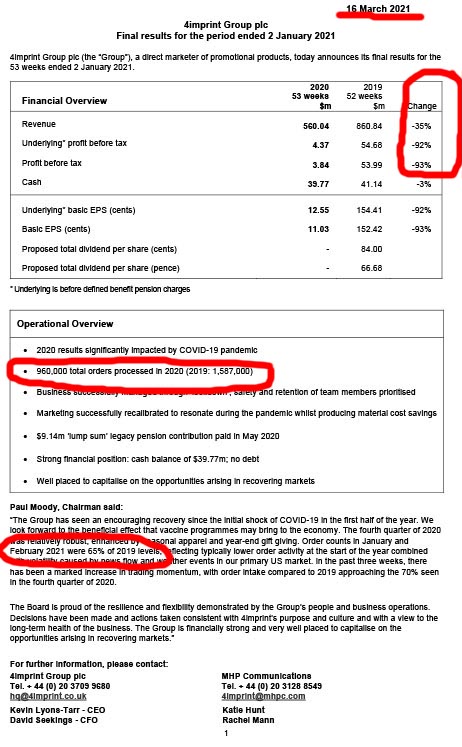 It's not just 4 Imprint!
As 4 Imprint is a publicly traded company, it means that they must release their annual shareholders report.
However, it would be foolish to think that only 4 Imprint has this problem. In fact, it is highly likely that the same problem or worse, exists for other warehouse suppliers such as Leeds, Hit Promo and more.
It is highly likely, that these massive warehouse suppliers with their huge overheads, big executive salaries and inflated cost models will all be suffering under the same crushing market forces brought about by Covid-19 combined with their outdated business model.
There's always more to this story than meets the eye!
As someone who has run large promotional product companies I have a bit of an insiders view. In my humble opinion, there are still many more problems to be revealed.
"The money stilled owed to these suppliers from their clients is still not written down or written off!"
In business, companies hate to take a loss on their books until its so absolutely unavoidable or indisputable that they cannot make any more excuses as to its collectability. Think about this for a minute.
If your business is owed money by a customer that you gave terms/credit to, how long do you hold onto the "faint hope" that they will eventually pay you? 6 months? A year? More?
The same problem applies to these big warehouse promo businesses. In my opinion, the losses they are only showing now are just the tip of the real iceberg.
The customers who owe the big warehouse supplier are no longer in business!
According to ASI, the promo industries beacon of information, Distributors sales are down by 44%.
As you are a promo distributor reading this, you already know it's been a very tough year!
This downward figure put forth by ASI also "fluffs up these truly tragic numbers" by stating that the only saving grace for promo distributors is PPE!
However, as we all know, PPE in promo is now dead, dead, dead!
PPE is everywhere and available from everyone. The need for PPE to be filled by the promo business in early to mid 2020 has evaporated.
The supply of PPE is now in the hands of your local grocery store.
So, I believe that this "half glass full idea of PPE being a savior" is not yet even factored into the ASI report. The true downward numbers are very, very likely to be double what ASI reports.
The "come to Jesus moment for all of us in promo!"
When the suppliers and distributors actually admit that their collectable debt is no longer collectable there will be another huge hit and a massive write down.
This "come to Jesus moment" actually means distinctly different things for all parties in the promo biz.
What does this all mean to everyone?
There are a few possible ways to look at this.
If you are a big warehouse type supplier:
Price increases. When American business marketing does open up, these suppliers will have to increase product prices. Shareholders will demand it, cash flow will need it and their very business survival will depend on it.
No new products and ideas: The promotional product marketing business depends on new product ideas to drive their message as "trend setters and marketing mavens!" Their lack of cashflow, warehouses full of 2019's swag ideas and their shrinking customer base means that their is NO MONEY TO INVEST IN NEW PRODUCTS!
If you are a promotional product reseller or distributor:
You will be showing your clients the same old stuff as you showed them before the pandemic if all you continue to do is source from Leeds, Hit, etc.
You will have to charge more for the same product as the supplier will have to increase their prices.
If you are an end -user of promotional products:
You will start to look at alternative solutions for your promotional products.
It is unlikely you will pay for those logo'd pens and mugs you bought in late 2019. That is still the outstanding debt still held by both the distributor and in turn owed to the supplier. In my opinion, at least 80% of this debt will never be collected.
What can the savvy distributor do?
In 2021, if you are an American or Canadian promotional products distributor looking to reboot your business post covid-19, you are best served by going factory direct for your promotional products. Here's why.
We provide the distributor a full 360 degree product sourcing service that delivers promotional products direct to your door from over 150 different promotional product factories. We take care of all of the sourcing, logo, shipping, brokerage and duties and provide you a single all inclusive price.
We don't carry inventory but deliver in 10 days direct from the factory. We can find you anything you want your logo on!
Crawling out from under the wreckage!
It's coming. Herd immunity and the great reboot. You may not be ready yet, but when you are, we're ready for you. Why not connect now?
Promo Motive. Sage #51742
Who is Promo Motive? Read more…