POPSTER SOCKET GRIP
Check out the Price Crush on our very popular accordion style, popable, POPSTER SOCKET GRIP.
Super sticky genuine 3M adhesive sticks to all phones.
Completely removable, washable and replaceable on other devises.
Now available at an unheard of price including FREE SHIPPING and FREE 4 COLO LOGO!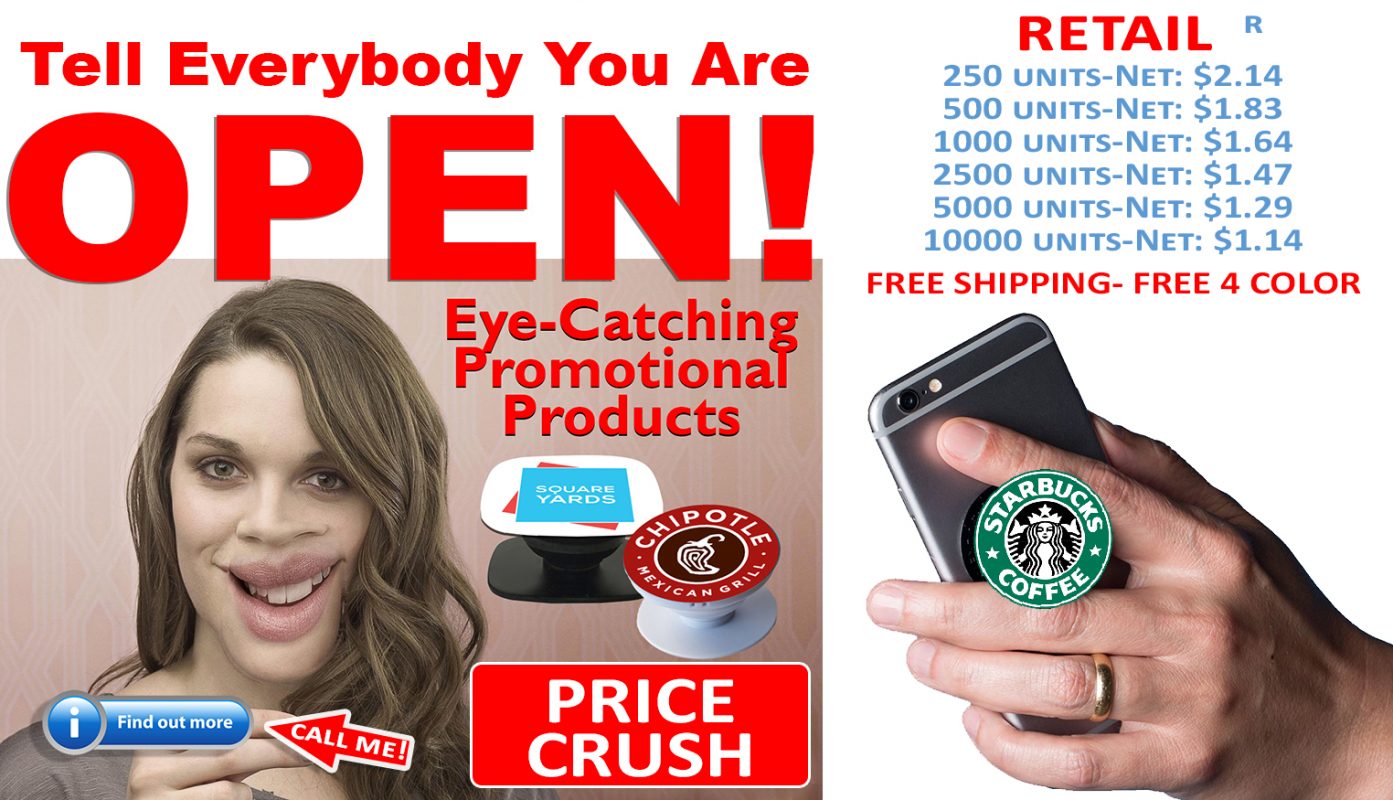 What we can offer you in products?
Our motto is "We Do Weird Well!"
What this really means is we specialize in sourcing the most interesting an eye-catching promotional products.
Even though your clients may occasionally buy basic pens and coffee cups we don't want that business. It's not what we do well.
What we do really well are products like Pop Phone Sockets – Folding Coffee Cups – Rubiks Cubes with full 6 sided logo , Ridge type wallets and Pop-it Silicone Toys.
Is this all the products we offer? Not even close!
We also supply  Custom 3D puzzles, RFID wallets, Every Day Carry Tools, Amazing Custom Leather Goods, Factory Fresh Hats, Factory Bags and Back Packs, Awesome Sublimated Wearables and more than 10,000 other factory direct ideas.
How do YOU benefit from working with Promo Motive?
During Covid we retooled and refocused our attention on the post pandemic promotional world.
The question we asked of ourselves. What was to be our role?
It is now our goal when working for you to do the  following:
All orders include FREE Shipping , No Set-up charges and we take care of all importation fees, duties and taxes. We will provide you 1 single all inclusive price for any order.
We will source you ANYTHING. Got a tough client request. We have over 150 factories located in 10 countries all of which we have dealt with over the past 20 plus years. Most factory responses take 24-48 hours at most!
We work on a teeny, tiny almost invisible margin. Yup, we will beat anyone's price.
Think of us as your "almost-inhouse" sourcing agent!
We are here for YOU! Put us to the test!
Call us at 1-888-908-1481 or email Emily.
We have everything you see below & more!
With 150 source factories, full-time employees at the factory level, in house importing and sourcing experts. There is NOTHING we will not try and source for you and your customer. Free product sourcing solutions.
Put us to the test! We're here, for YOU!
Call us at 1-888-908-1481 or email Emily.