Welcome to the See Through Mask special offer for all State Relay Programs.
The Fog Free, See Through Mask for individuals with hearing loss is now available. Exclusively from Promo Motive/Promo Crunch.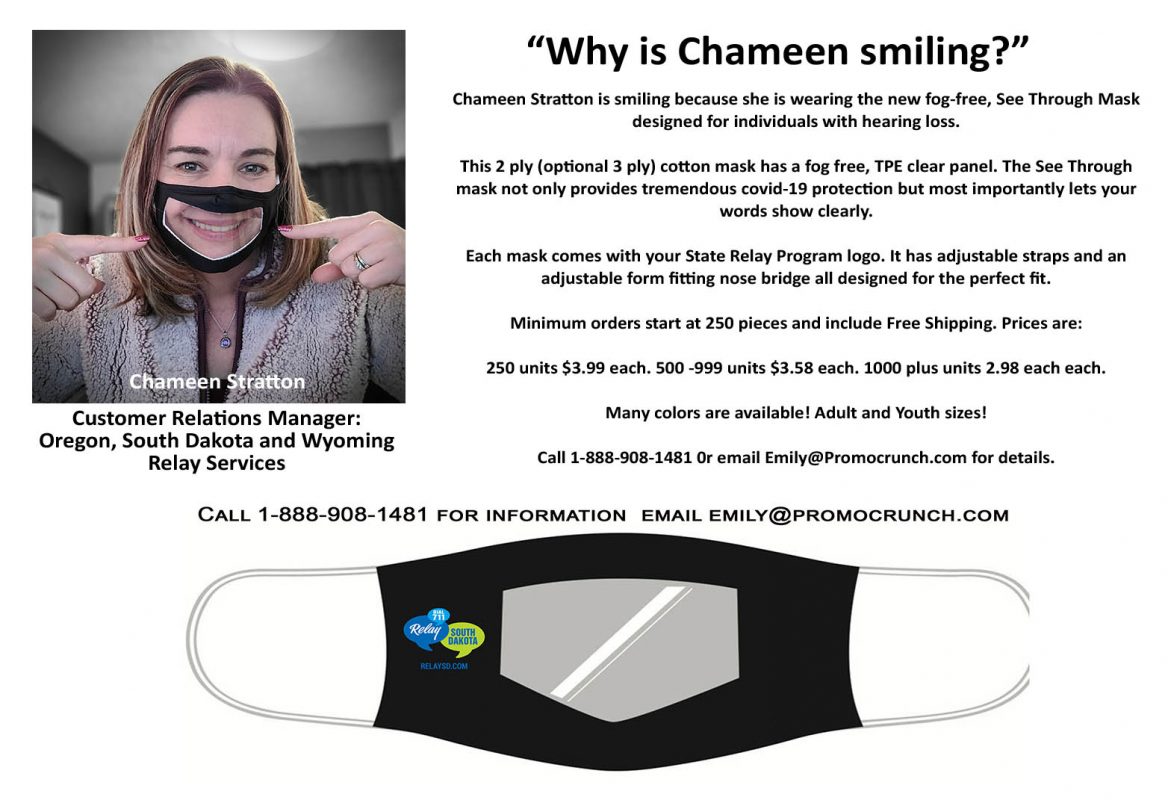 Welcome to the all State Relays Program See Through Mask Special Offer.
Promo Motive/Promo Crunch is an established supplier. We specialize in providing unique and creative products for the corporate marketplace.
Over the last year, to meet the challenges of Covid-19, we have been offering specialized PPE for those with hearing loss with our See Through Masks. Read more.
What is the See Through Mask?
The See Through Mask is a super soft 2 ply cotton mask (optional 3 ply cotton available for an additional charge) with a built-in, fog free, see through TPE panel. The masks are both reusable and hand washable.
The See Through Mask provides great Covid-19 protection and at the same time, it helps promote your State Relay Program by having your program logo imprinted on the masks.
The mask comes in both Adult and Youth sizes and has an adjustable strap plus a built-in adjustable metal nose bridge for a snug and secure fit.
The prices listed below includes FREE Shipping to 1 destination plus a Free 1 Color Logo. An optional 3 color logo treatment is available at 1000 pieces and above. Prices including shipping and logo.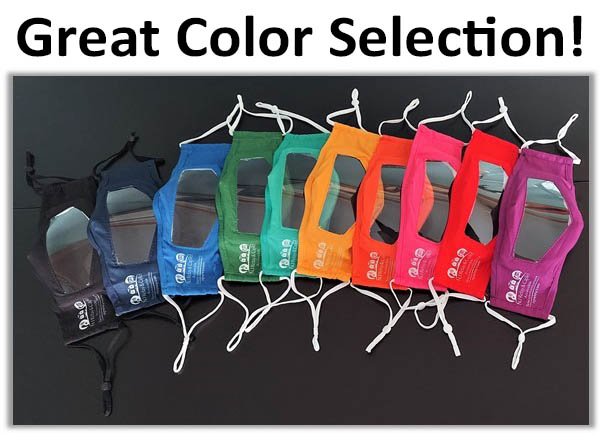 Minimum order 250 units.
Pricing:
250-499 units $3.99 each.
500 -999 units $3.58 each.
1000 plus units 2.98 each.
Trade references are readily available:
FREE SAMPLES AVAILABLE!
Would you a like a free sample to test out? Why, of course you would!
To get a free sample simply call Emily at 1-888-908-1481 or email

[email protected]
Lots of great colors to choose from!
There is a wide range of colors and design options available including a full coverage dye sublimated version. Call for information.







Navy Blue Email Emily or call 1-888-908-1481
The Science Behind See Through Masks.
The accepted science behind the wearing of masks is indisputable. You can say you do not like wearing them, want to wear them or it's all a hoax but the science is indisputable. If you want to stop the spread of covid-19, you need to wear a mask!
Why people dislike wearing a mask.
There are many reasons that people dislike wearing a mask. They include, it is uncomfortable, it's hot, it's against their personal choice and freedom, they can't see my mouth move, others don't understand what is being said and people can't see my smile. The list goes on and on.
However, 2 or 3 ply Cotton masks are a great way to prevent the spread of the virus and provide a very comfortable wearing experience.
People with hearing loss struggle even more with the Covid-19 mask requirements. Until now!
For people who have hearing loss the ability to see someone words being spoken is critical to communication. The requirement to wear a mask to prevent the spread of Covid-19 has been especially hard for people with hearing loss. Until now!
Let your words shine through! Get your logo on the See Through Mask.
Call Emily at 1-888-908-1481 or email [email protected]