The Science Behind See Through Clear Vinyl Masks.
The accepted science behind the wearing of masks is indisputable. You can say you do not like wearing them, want to wear them or it's all a hoax but the science is indisputable. If you want to stop the spread of covid-19, you need to wear a mask!
Why people dislike wearing a mask.
There are many reasons that people dislike wearing a mask. They include, it is uncomfortable, it's hot, it's against their personal choice and freedom, they can't see my mouth move and smile. The list goes on and on.
Masks are uncomfortable and hot?
Some are and some are not is the best answer. For instance a KN95 masks tends to be warm as it stops 95% of all particulates coming in and out of the mask. Plus it has a tight fit. It is the best mask for your investment but for the most part it is overkill (pardon the unintended pun).
2 ply Cotton masks are a great way to prevent the spread of the virus and provide a very comfortable wearing experience.
People couldn't see your mouth or smile! Until now!
In my humble opinion the big issue with masks is that with all other masks is that you could see the persons smile or their mouth moving. According to 1971 book entitled "Silent Messages" 55% of all communication is non verbal. Most of this is expressed through our mouth. Frowns. smiles, grimaces etc all punctuate and accentuate of communication skills.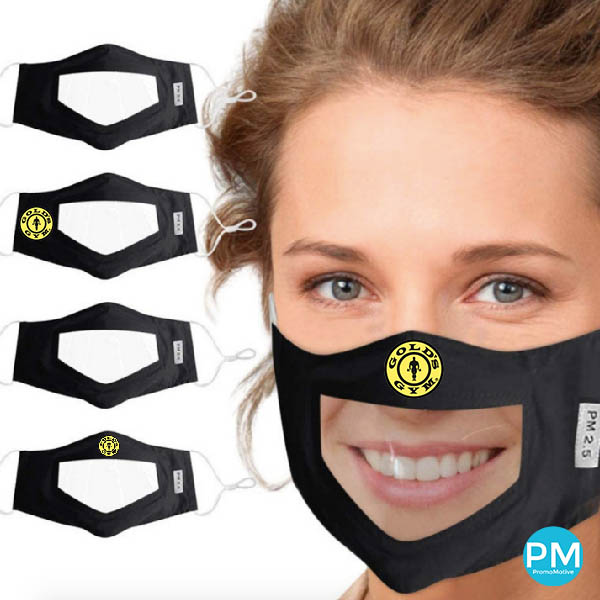 Enter the See Through Mask, The Freedom Mask!
Introducing the world's best see through mask. 2 layers of soft cotton laid in a cross-hatch pattern plus a vinyl PET clear see through panel that clearly shows the mouth and your brilliant smail. All of which we have so missed these past few months.
Available in colors and with your client logo on it!