Promo Motive is home to America's Best Prices on Masks!
There is no doubt that on July the 4th 2020 we are thinking more about masks than we are thinking about our usual July 4th fare of "hot dogs and hamburgers".
Th State of the Union for Masks!
This July the 4th, 2020, the promotional products business is in a state of turmoil. The virus Covid-19 is raging through the states that reopened too soon, our leaders are confused as to what to do and American businesses are failing. What can the promotional products business do?
You can make lemon-ade out of these lemons!
Yes, we all want to go back to the "old normal". I do, you do, everyone I know does but until this whole shit show is over there is no "old normal". There is only what we have. "We only have 2 choices, both of them bad, pick the best of the bad one!"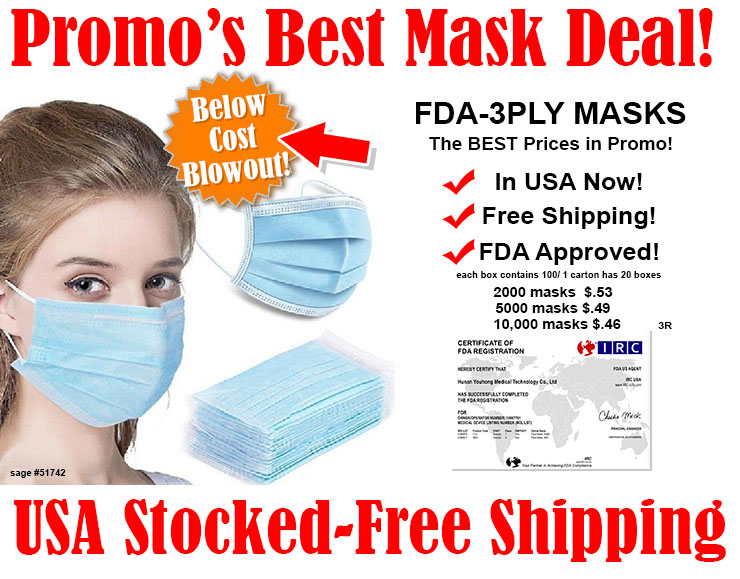 "We only have 2 choices, both of them bad, pick the best of the bad one!"
Your choices as a promotional product professional are not good, in fact you have only 2 real choices, both bad.
The first choice. Is to wait for the "old normal" to return. You can wait for those coffee cup and pen orders to come back but they are NOT coming back until we are physically healthy and business is healthy. If you can wait a year or so, this may be your choice.
The second choice. The second and what I think is "the best choice and in fact the only really good choice" is to get in front of your clients and sell them masks and hand sanitizer.
Trump Wears Mask! Revealing Video!
A Trump actually promotes safe use of masks and praises CDC guidelines for their effectiveness in combating Covid-19.
Like it or not, believe the science or not, love or hate Trump, the facts are simple and plain. The only way to get back to "the old normal" is to wear a mask and use hand sanitizer.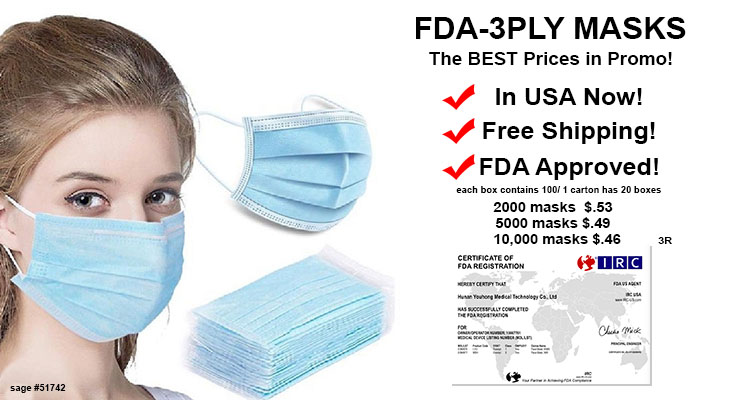 In the EU, Canada, Japan and other developed countries their virus and hospitalization rates are way, way, way down. Why? Because they all wore masks and used hand sanitizer for 8 weeks. It worked!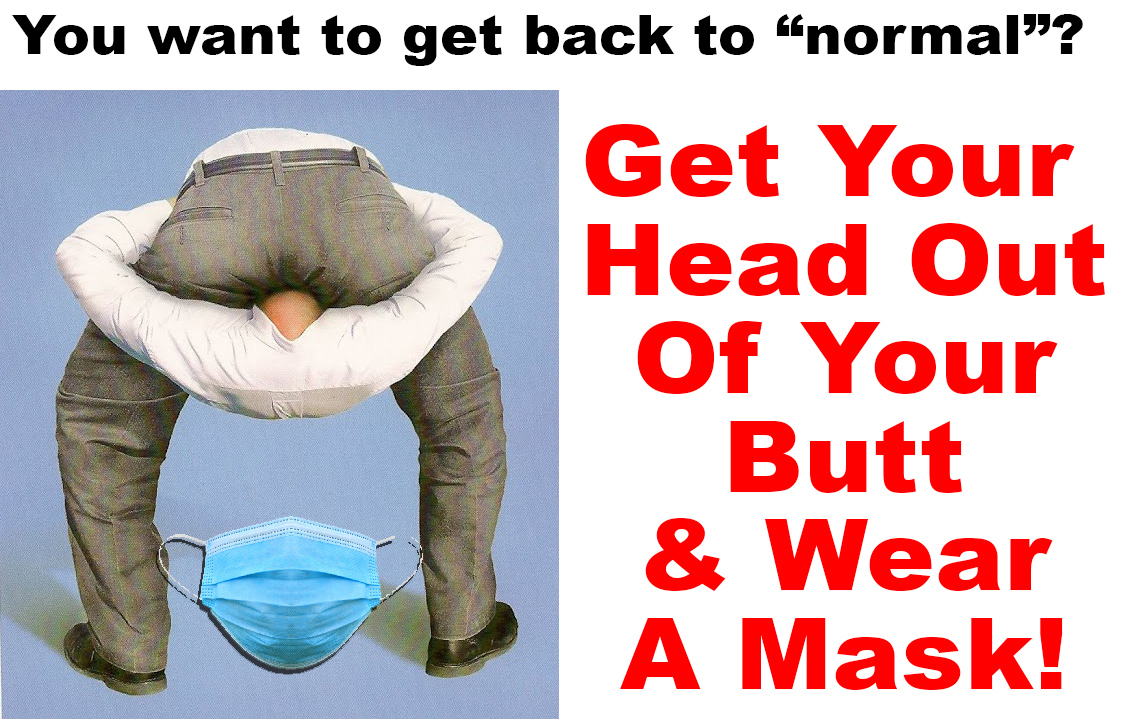 Masks are here in the USA! Now!
The Promo business is uniquely positioned to get us back to the "old normal" sooner and faster than just about any entity in America. You have amazing reach into every corner of the country! You have access to teams, business, sports, schools, organizations and you have an amazing supply available through supplier like us. (Sage #51742)
3-ply masks prices and delivery.
We have 5 different warehouses here in America with 3 ply masks. All of them can ship today. Minimum orders start at 100 packs of 10 (1000 masks). Prices on 3 Ply masks are as low as 25 cents each for larger volume orders.
Due to the very volatile nature of masks and their supply putting a price up on the page is not going to happen. Our price changes daily and our ability to bargain with the warehouse changes with your order size. Do you want the best price? Call me directly at 250-661-4057 or email [email protected] and I will respond asap.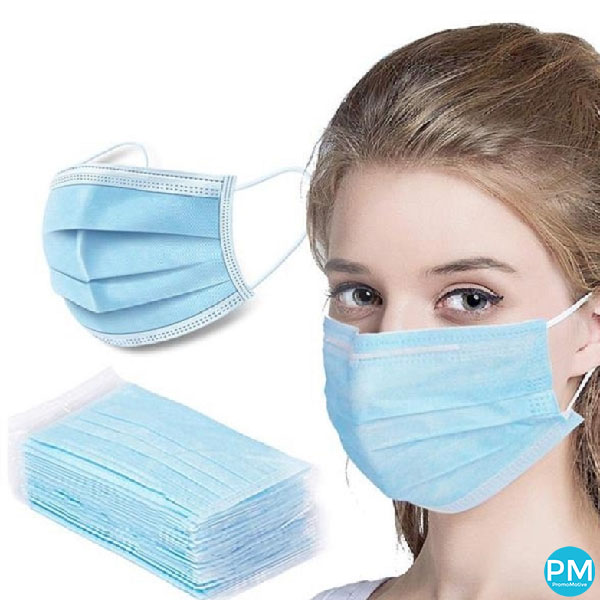 2 Ounce 75% Alcohol Gel Formula Hand Sanitizer
We have 20,000 bottle of 2 ounce , 75% Alcohol Gel Formula Hand Sanitizer in New York, right now! If you hit this link you can see it…link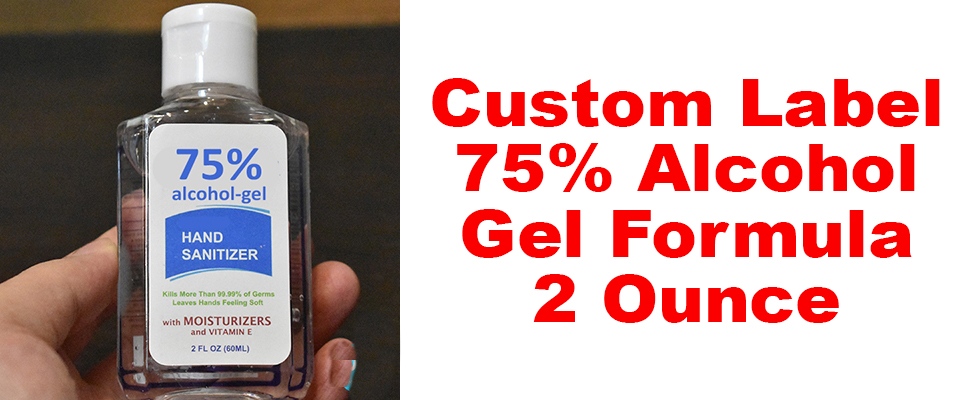 Special Sale Price on 1000 Pieces!
This is a limited time only special on IN STOCK IN USA hand sanitizer. This special runs to July 8th. 1000 pieces of 2 ounce with a generic blank label is $1.28 NET! Add a custom label for 20 cents! Call 250-661-4057 or email [email protected] for details!
Hand Sanitizer Supply USA.
Currently, July 4th, 2020, there is a decent supply of hand sanitizer in the USA but we expect this to change dramatically in the coming weeks as the virus continues unchecked. If your clients already have a good supply it is your best move to let them know that resupply is NOT GUARANTEED AT THIS TIME! Stock up!
Can Promo Survive Covid?
Yes, but only if you pivot quickly, educate your clients to get masks and hand sanitizer from you and service them like you always have. P.S. There are no coffee cup or leaky pen orders coming anytime soon!