15K in stock each week! 2 ounce 75% alcohol.
As we prepare to go back to work the demand for hand sanitizer is only going to rise. Bloomberg news stated clearly that they expect hand sanitizer inventory levels to not stabilize for 6-8 months.
We are bringing in 15,000 2 ounce bottles each week to our New York office. You can order your hand sanitizer now. Call 250-661-4057 or email John
Watch this video for details.
Our best advice when buying hand sanitizer!
If you find it available, buy it now. Do not wait.
If you are looking for cheap prices. Forget it.
Going unlogo'd is faster than logo'd.
Manage your clients expectations in a new way!
Rethinking your client's expectations.
In April 2020, and for the foreseeable future you are best served if you can change your clients expectations!
Managing your clients expectations have always been an integral part of the promotional products business, however we have now had a sea change in the way the promotional products business has to be conducted.
This unforeseen and seismic shift to our supply chain and the demand for products like hand sanitizer spiking 700-800% has made it essential that both suppliers like us and distributors like yourself need to significantly change our clients expectations.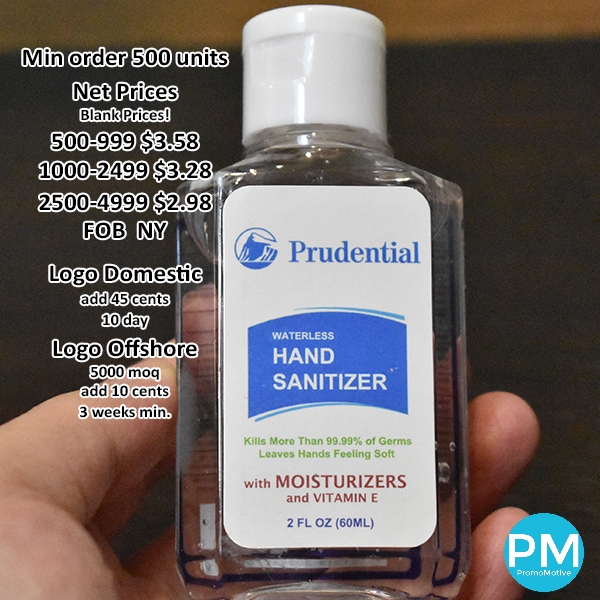 What we all need to do!
It is important to let customers know the following:
This "IS" the new normal. Long delays, prices rising and uncertainty.
If they want to order hand sanitizer you need to ask them for their permission to buy it when you find it. As an example, each week we bring in 15,000 units, it takes us 1-2 days to sell all of them. You are best to buy when you find it.
Demand is about to spike. As soon as we get the go ahead to go back to work your buyers are going to demand hand sanitizer. This demand spike will make the last few weeks look like a picnic. Get ready.
Buy blanks, its faster and cheaper.
Why are blanks so much less expensive than logo'd goods?
Cost for a label in China including placement. 3 cents.
Cost for a label here and hand-bombing it on. 42 cents.
That's it. Labor in China and efficiency to do this simple task is that much cheaper.
Hand Sanitizer Assembly Line Video.