There is good news and bad news to report on the export and import of PPE also known as personal protection equipment coming out of China.
The Good News.
The good news is short. Hand sanitizer prices are down a bit and wait times are leveling out. We currently have 10,000 units in stock in USA, maybe less by the time you read this. See product link. click
The Bad News.
At the request of the US Customs, unlicensed Chinese made PPE goods are being refused exit from China. This will/may likely affect goods already ordered. The goods being stopped from exiting China are knockoffs of the KN95 and other PPE.
Since March 31. the Chinese government and Chinese customs at the request of the USA have stopped the export of 9.9 million KN 95 masks, 155,000 PPE clothing, 1.8 million corona virus detection kits and 24,000 infrared thermometers. Read the Chinese/ English language article. Click
As of April the 3rd, 2020 the FDA also banned these imports unless they come from 4 designated FDA factories. These factories now have long wait times and high minimum orders.
It appears, that the FDA through the US Customs is refusing entry of these goods into the USA and exit from China to prevent poorly made PPE products from entering the US healthcare inventory.
Link. Toronto gets 500,00 defective masks. –click to read
How do I know the FDA and US Administration made this request?: In 20 plus years dealing with China I have never known China to not sell something that was in such demand and as these goods have been stopped at Chinese customs and returned to the factory, the Chinese government is imposing a hardship on their own factories. This looks very much like a US request to China in the middle of a trade war. You do the math.
Those in the promotional product industry who have been selling these "off brand" PPE products run an enormous risk for either stoppage of their PPE leaving China or if they are in transit to the USA, may in turn have their goods stopped at the incoming US border.
FDA Announces only these 4 Factories can legitimately produce and deliver KN95 Masks.
Check the 2 images below. The top image is of the 4 FDA factories approved by the FDA to export PPE from China and import into USA. The second image is my email from one of them last night regarding minimum order and price at the factory (FOB China). Please feel free to contact them. (we won't be pursuing this). Click to read the FDA's 8 page release April 3rd.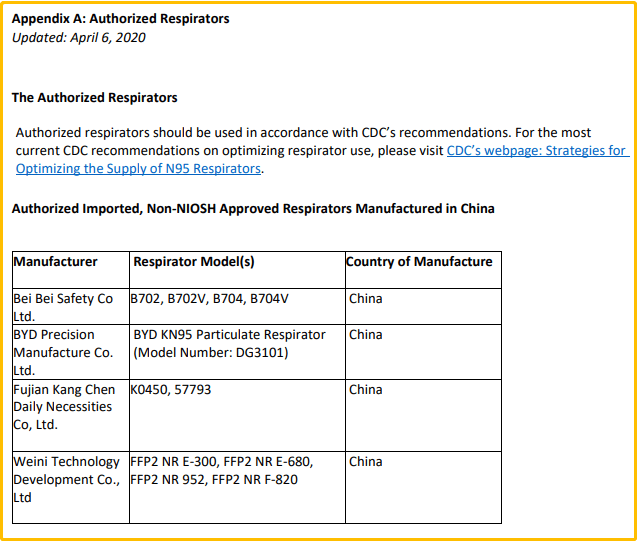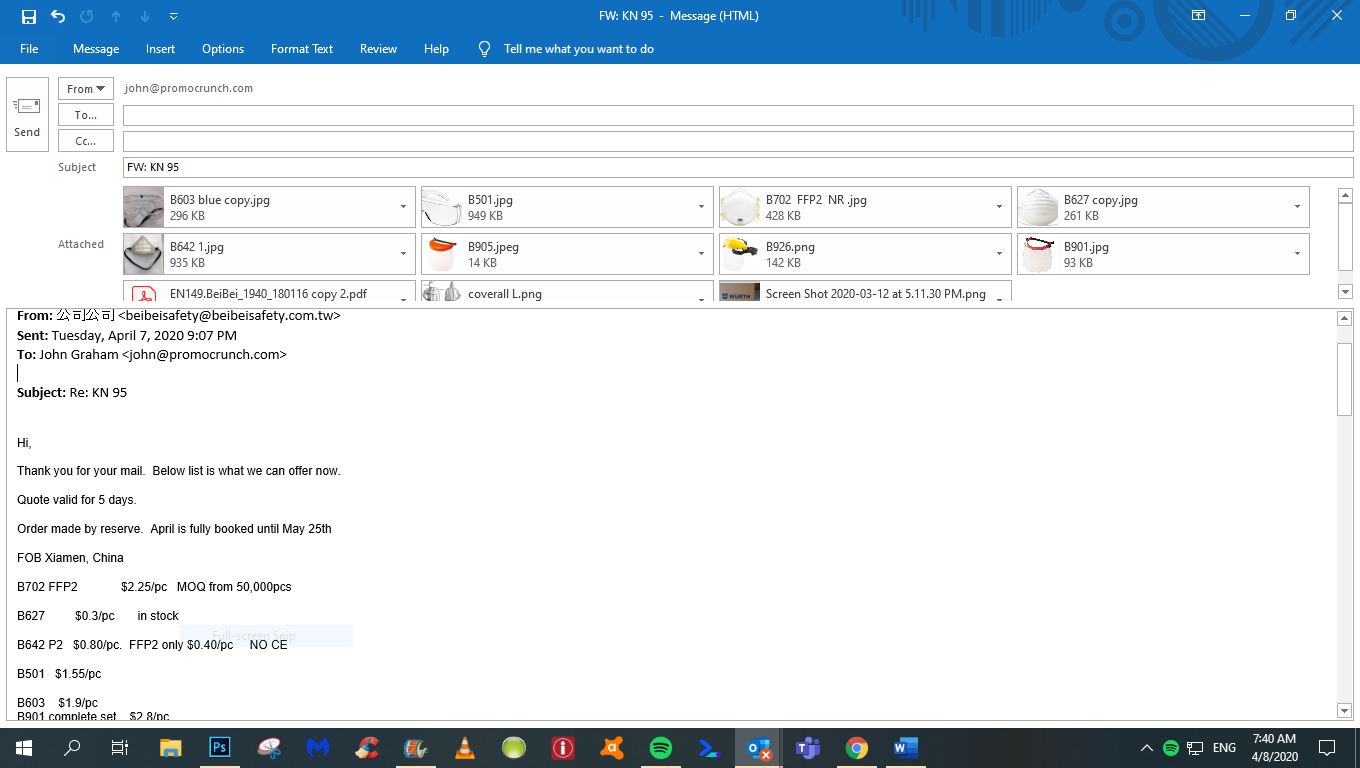 Why do I post these videos?
I don't want to appear overly altruistic as we are in the business of selling factory direct products to the promotional product industry. However, we are also in a very unique position to see the problems arising a good week or 2 before most of you do.
I can't stop you from making mistakes, I can only provide our experience and good advice. My hope is that by putting out these videos is that you don't get over your head with orders for PPE (especially) where the order quantities and dollar values seem huge and "ripe for the picking".
In closing, ask yourself these 2 questions.
If it seems to good and easy to be true, can it be?
If experienced importers such as us, are staying away from PPE, what does that tell you?
All the best. John call 250 661 4057 or email John