Possible Scam Alert on Hand Sanitizer. Read fully.
I hope this isn't true but with all of our experience in China and the details we know on a daily basis it is important to know that in times like these there may be scammers afoot.
The product image you see below is a legitimate 75% alcohol-based hand sanitizer from a legitimate factory in China. We deal with this factory and have had a factory visit in the last week.
Click to watch the video on YouTube.
The problem is not the product, the problem is possible intermediary scammers in China or Taiwan.
"Let me be clear, OUR supply chain is good. However, there are scammers who are trying to sell hand sanitizers and masks to this industry at this time."
I have spoken with the person, who I think is a scammer. I have a good sense for this stuff, here's why.
He answers the email during our day time. That is HIGHLY unusual.
He claims pricing and delivery that no other China supplier, freight forwarder can offer.
He claims to be doing this for the our benefit. I don't buy it.
He accepts payment (wire transfer) in RMB not USD. RMB is a Chinese currency, he is in Taiwan. Taiwanese currency is NT. Every transaction we have ever done with China in the last 20 years is always in US$.
He also is selling every type of medical supply, masks, gowns, face shields etc. It does not add up.
Below is a screen shot of his most recent email (today) to me after I told him of his suspicious behavior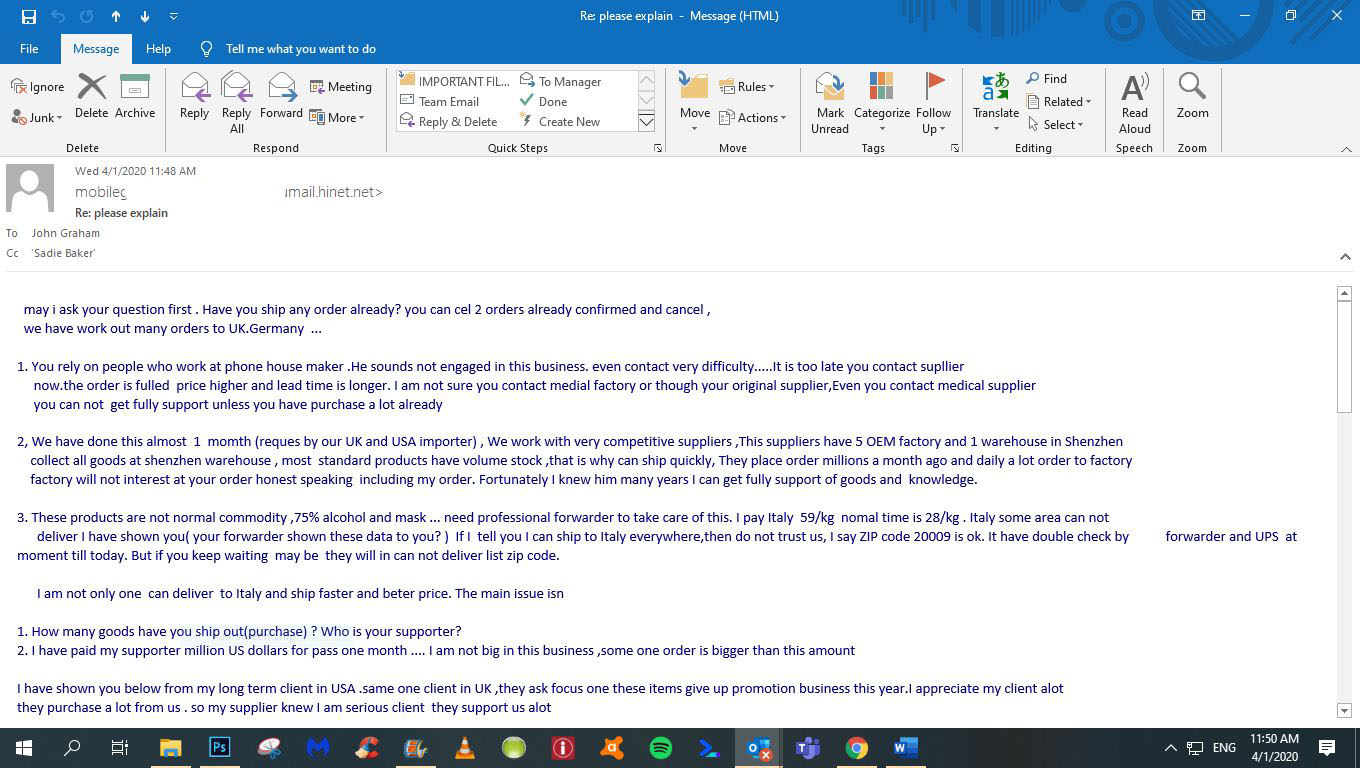 I hope I am wrong.
This simply does not pass the "smell test".
We have factory direct pricing which includes air cargo and all duties and taxes. We operate on a low 20% mark up. We are, trying to do our part.
However, we believe strongly, that there is middleman who claims to be Chinese out of Taiwan that maybe falsely promising to deliver this product to US suppliers and distributors at a price that is "too good to be true!"
The factory may actually be sending the goods, I don't know, but he cannot possibly be guaranteeing delivery at either these prices, times or destinations. Simply put, "if it is too good to be true, it just might be!"
If you wish to do this, you do it at your own peril. If you have questions, call me at 250-661-4057.