You're customers are wrong. Maybe you are too. Here's why.
It is now just the beginning of the of the corona pandemic. The beginning, not the middle and certainly not the end.
Those of you who are inquiring about hand sanitizers and KN95 masks and delaying your order to A) wait for prices to come down, B) to see if the customer will really need them are simply put, WRONG.
Watch this Youtube Video to understand the current crisis of product delivery and availability.
Normal levels of hand sanitizer are 5-8 months away.
Don't believe me, go to Bic site, all sold out until July.
Demand is up 10 fold, supply limited by air cargo restrictions. https://promomotive.com/2020/03/24/shit-hits-the-fan/ see my web traffic from yesterday all hand sanitizer related.
My web traffic below.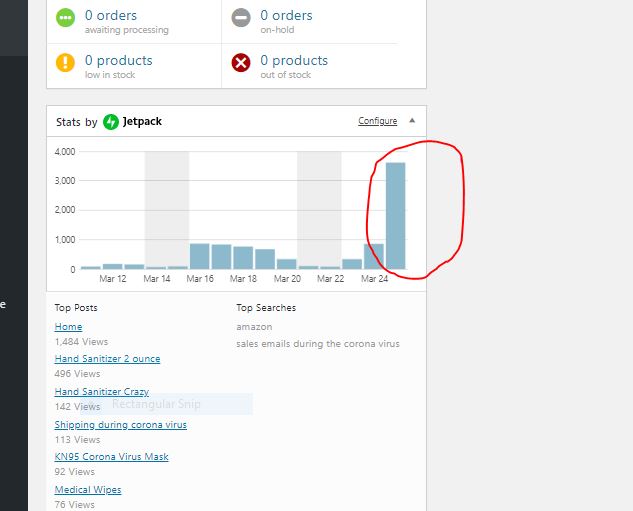 How to explain the current price spike on masks and hand sanitizer to clients. Watch!
All those 100's of "FDA suppliers" of KN95 masks and hand sanitizer aren't!
KN95 masks and their US equivalent (N95) must be FDA approved and EC certified (we are) . Today, I got the following email (screen captured) and I looked at their web site, also screen captured. Do you really want to order KN95 masks or hand sanitizer from a flash drive maker? Will they deliver? Will it get caught in US Customs as it is NOT FDA APPROVED?
FYI. If you'r clients are plannning on waiting, it will only get worse.
Do you need to talk this through? Do you want to call me directly and I will explain to you how to best get your clients to work through this? Cuz, it's only going to get worse. This is unprecedented. My direct cell is 250-661-4057.
End User Safe Video. download from youtube at https://youtu.be/NxVAiKZ7drc
Be on the alert for possible hand sanitizer Scam- Read and watch this!