Are You a Salesperson or a Marketer?
In this day and age where all of the sales inquiries come in through email or via online do you consider yourself a salesperson or a marketer?
Do you make outgoing sales efforts and when you do is it only to existing clients or new prospects?
When you make a product presentation are you always showing the same old stuff or are you showing you clients and prospects something new?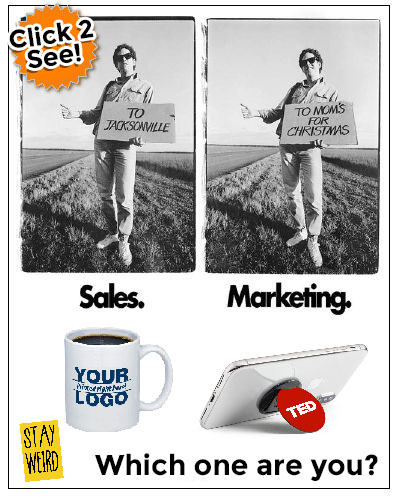 In the Promotional Products Business New Ideas are Your Life Blood!
Let's face it, your competition is not the guy across town sitting in a similar office, a guy that is driving around with a bag full of pen and mug samples. No your competition is 4 imprint.com !
You Can Defeat 4 Imprint. Here's How!
Let's be honest, if you're client is looking for crappy coffee mugs or leaky pens they are just as likely to go to 4 Imprint. That is what 4 Imprint (and others like them) do really well. They slap a logo on a basic promotional product and the buy does not need to get up from her desk.
What 4 Imprint does not do well is innovate! They are simply too big to move fast. This is where you can beat 4 Imprint!
Show the client something different. It will make you look different from 4 Imprint and that annoying guy across town driving around with his sample bag!
Here are a few innovative ideas that can be logo'd and sold! I guarantee 4 Imprint does not have them and you will look awesome if you show them! Call 1-888-908-1481 or email us for info. [email protected]