Promotional Products Industry Overview.
In the early part of Summer 2019, the promotional product industry braces for massive changes to come in the fall and on into winter 2020.
Beware the coming business world apocalypse!
Ominous sounding, I know, but here is what is likely to affect your business and how to deal with it in the next 24 months.
We are overdue. Most don't remember the last one.
Call it a recession, business contraction, market shrink, whatever you want to call it, we are long overdue for another one.
The last one was in 2008 and was mostly seen by those who owned houses and were invested in real estate. The last major recession before that (aside from the 9/11 business interruption) was in the early 90's.
The are 52 MILLION Americans living today who were born AFTER 1982!
https://knoema.com/egyydzc/us-population-by-age-and-generation
This fact means that the oldest of these 52 Million Americans (known as Millenials and Gen Z) were only 10 years old when the last major recession hit. They have not seen one up close and personal.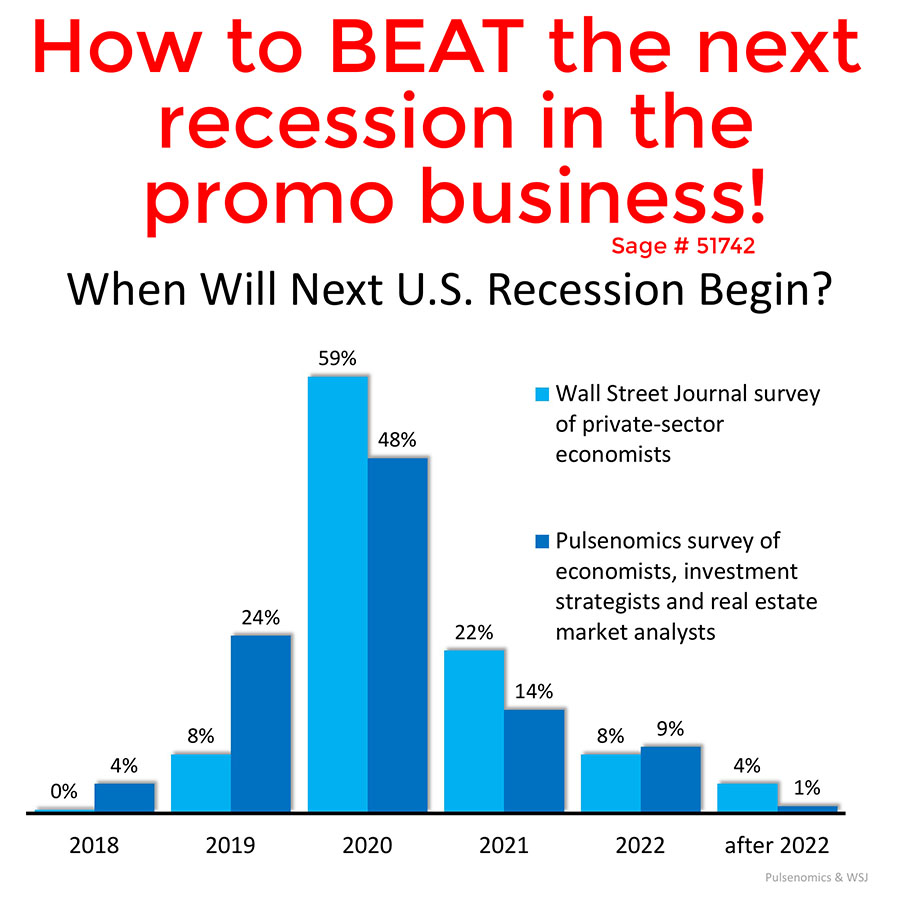 What is a recession? The short version as it affects our business of promo.

"Simply put, a recession is when businesses stop growing and starts shrinking and spending less."
A recession is when your customers stop spending like "drunken sailors", start complaining that prices are too high and start to shop around.
Drunken Sailor Syndrome
Simply put way too many clients these days are buying without thinking about the "cost consequence". Ask yourself this, "does my client really grind me on price?" If the answer is "No" or "sort of" . Then they are buying like a Drunken Sailor.
The Customer Is Complaining
If your daily conversations or emails with your clients have a distinct noise about them such as a lot of complaining, questions like "what is the absolute minimum" or "is that your best price?" , then chances are we are heading for a recession.
The worst is they stop calling or emailing. They go "Radio Silent".
https://www.merriam-webster.com/words-at-play/radio-silent-silence-meaning
They shop around. The Internet will be your #1 enemy!
If your client has gone radio silent they may still be buying swag. Just not from you. They may be buying online!
How to Defeat the Coming Recession for Your Own Personal Business!
In the "old pre-internet days" and before the new current "I am afraid to pick up the phone" days" a promotional products salesperson would pick up the phone, drop by, cozy up and charm the customer in staying with them and not looking elsewhere.
So the first and most obvious thing to do is to get more in touch with your clients and go on a charm offense. Make sure that when they constrict their business it is with your competition, not you!
Second thing is to market like a maniac. Have you grown complacent, lazy, indolent , slothful, work-shy, shiftless etc when it comes to marketing and getting new leads for yourself?
Stop it, send flyers, make calls, drop in, get jiggy with your own personal marketing brand. "Remember it takes 7 impressions to make an impression".

"Remember it takes 7 impressions to make an impression"
How Can Promo Motive Help?
In this age when your biggest competitor is online. ASI ranks 4-Imprint as the #1 distributor.
https://www.asicentral.com/news/magazines/counselor/july-2019/top-40-distributors-2019-no-1-4imprint/ You need to use different strategies and tactics to beat the big guys at their own game.
Our Suggestion: Use Me Abuse Me , Put Us To The Test!
Promo Motive is your best weapon to defeat the internet monster and to tackle the coming recession. Here are the reasons.
We import everything to you direct from the source factories in Asia to you or your clients door. Complete with FREE Freight, Free Virtuals, No Set Up, No BS Extra's all in about 8 days!
Because we do not warehouse swag here, we do not pay for 3 shipping and handling charges on the average order and have to increase the best sellers price to off-set the not-so-good-sellers. We will always be less expensive than the big supplier, except on a very few ideas (usually super small orders) .
We have stuff no one else has! Simply put if you show your client something no one else does then you have removed yourself from the "price comp throwdown" and have instantly established yourself as a trend-setter. And doesn't that sound good?
Here are some new ideas no one else has!