We are a small, nimble, efficient SUPPLIER to the Promotional Products industry. Sage # 51742
We specialize in supplying unique swag to creative thinking promotional products distributors.
On our site, Promo Motive we offer distibutors of promo swag a savvy and select collection of trend-setting "social media approved" cool products delivered complete and professionally logo'd to your door.
"whew"
All of these promo products are produced in China in 2 weeks and delivered hot and fresh to your door or clients destination complete with a great logo and FREE SHIPPING!
We also offer the distributors a factory direct "personalized sourcing" of just about anything from China that a logo can go on.
Who I Am: John, I have done this for over 25 years and know my way around China to find the difficult, unusal and interesting and deliver it perfectly logo'd and delivered directly to you.
Who is Emily?: Emily is your BEST PERSON to make an initial inquiry to. Emily is young, bright, smart, efficient and not nearly and grumpy as I can be. (Sorry but I admit it : jg )
"She also understands this crazy business we are all in!"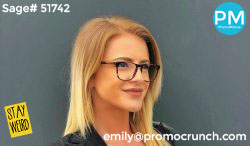 Email [email protected] call 1-888-908-1481
FAQ? What is Promo Crunch then?
It's really simple. For nearly 18 years we have (and still do!) make really very cool Custom 3D Promotional Products such as the "World's Best Custom Shaped Flash Drives and Power Banks!"
www.PromoCrunch.com Call (same phone #) 1-888-908-1481