The folding collapsible reusable drinking straw could easily be Promo's biggest idea for late 2018 and into 2019!
I know this sounds a little over the top, but we know how to spot trends using our experiences plus some good old science!
One of the ways we know: Experience!
2 years ago,
we were onto
Fidget Spinners. This was 4 months before anyone else. We spotted the trend in kids early, we did our research into what it was and why it was so hot!We then analysed the trend to see if the fidget spinner would work as logo'd swag. Lastly, we had our factory in China product source these with a guaranteed delivery and rock solid pricing.
We were lined up, ready to rock before we took a single order. We delivered nearly 500,000 of them in 4 months.
Click here
to read the Campaign Live article.
"We are very good at spotting trends and analyzing the data to reaffirm our suspicions about an emerging trend. We also have a bullet-proof manufacturing and delivery method in place for logo'd goods. We are a promo supplier that likes to deliver weird well."
In the last week 3 major indicators are off the hook!
1st major indicator: Web stats for the folding reusable drinking straw, the Last Straw.
I am a bit of a stats geek, so everyday I do a thorough check on our sites and social media pages as well as run an algorithm on social media trends. What caught my attention was that during the past 2 weeks, the overall stats for folding drinking straws have shown a nearly
300%
increase in our traffic!
See the stats chart below taken from our site comparing a normal week to a folding straw week.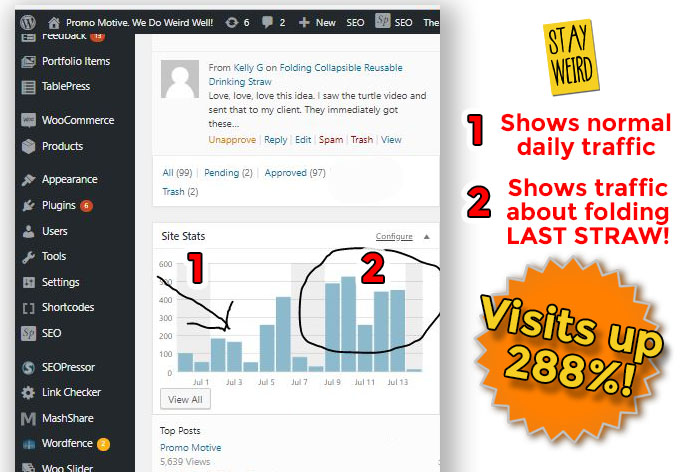 2nd major indicator: Sample inquiries
Usually, we get about 20 various sample requests each day from
Distributors
for our products.
However, during the past week, sample requests for the folding reusable straw LAST STRAW averaged 45 per day!
3rd major indicator: Phone calls
It is no secret that phone calls have dwindled in numbers in the past few years. Distributors, especially younger ones, are choosing to text or to e-mail. On a normal day we field about 35 phone calls,
last week we averaged 82 per day.
If you are a Distributor and would like samples? Please read this: https://promomotive.com/2018/07/12/free-samples-of-folding-reusable-drinking-straw-for-promotional-product-distributors/
"Our sample inquiries are more than double and our web visits nearly tripled with the folding drinking straw!"
"The Last Straw is perfect for a logo, makes any brand stand proud and comes with FREE Shipping, No Set Ups, FREE 4 Color Logo and FREE Virtuals."
We do stuff Distributors love: FREE Shipping, FREE 4 Color Logo, No Set Ups, and FREE Virtuals. Want to know more? Call us at 1-888-908-1481 or email

[email protected]

.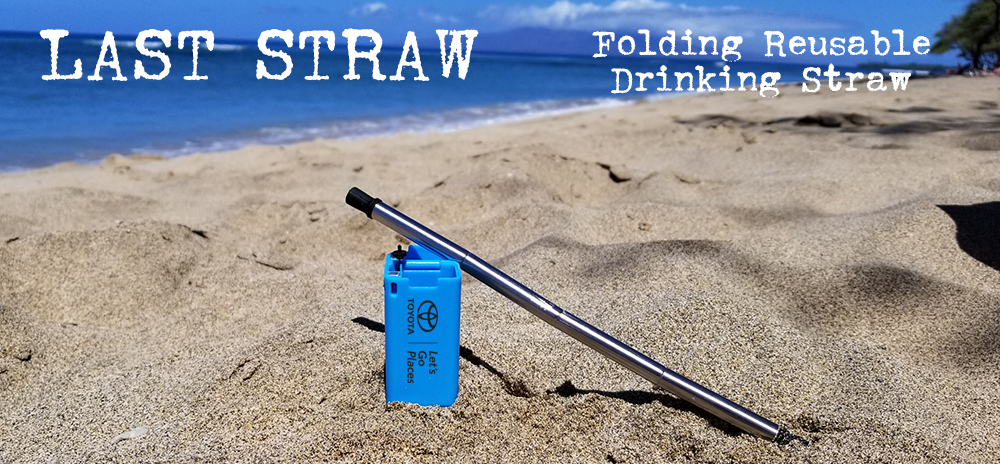 ---
Want to Know How to Sell the Folding Reusable Drinking Straw.
"The selling points on the folding straw is not all about the function of it, it's about the emotional appeal of it!"
First Point:
This all started with a Turtle video. The storyline is simple: ecologists and scientists working in Costa Rica come across a Turtle in distress. They pull it aboard and find a plastic straw stuck in its nose. WARNING: Video has disturbing images.
Second Point:
After over 30 million views of the video and a greater understanding of how billions of plastic straws were ending up in the oceans and staying undegradable for up to 500 years, cities and countries around the world banned the sale and use of disposable plastic straws.
Read about cities and companies banning straws including McDonalds, Starbucks and more!
To read the articles simply click on the links below.
Starbucks bans over 1 Billion straws a year worldwide
Seattle bans straw…read more..
..
Vancouver bans Straws…read more..
.
McDonalds Bans Plastic Straws…read more…
Huge 1000 location Bon Appetite bans straws…read more…
Alaska Airlines Bans Straws…. read more…
Third Point:
It's not about why would anyone pay $7-9 for a straw, but more importantly it's about what it says about a brand to have their logo on a folding reusable drinking straw.Your client's logo on a
LAST STRAW
says to the world that the client cares about the environment, is on top of the latest trends and lastly, but not least, they want to be seen as helping solve a recognized world problem and being a part of the solution!
___________________________________________________________________________________________________
Some Distributors say that "No One Will Buy it or Use It!"
These distributors may be sort of right but at the same time COMPLETELY WRONG! It may be true that many people may not use it, but I suspect millions of people will BUY it!If you think that selling a
$7-$9
drinking straw is a tough sell think again! In fact, there are other folding straw designs on the market that sell for $30 or more! …Check out this
Kickstarter program that sold over 80,000 units
of another folding straw at $20-30 a piece!
"The Last Straw folding reusable drinking straw will be a massive marketing statement for your clients. It will say to the world that they are an eco-friendly, trend-setting company. What brand wouldn't want to be seen like this?"