We Specialize in Promotional Products Specifically for the Dentist and Dental Industry.
Dentists have a unique need for promotional products. The purpose of Promotional Swag for Dentists is to reinforce the Dentists brand and services into their customer minds. It is also to provide a unique "calling card" to their clients to remind them of the Dentists contact info.
Dental Implant USB Flash Drive
Our most popular promotion for Dentists, Dental Surgeons and Implant Specialists is our Dental Implant USB.
This is a great way to keep your info and ideas at the "top of mind" of your clients and potential clients.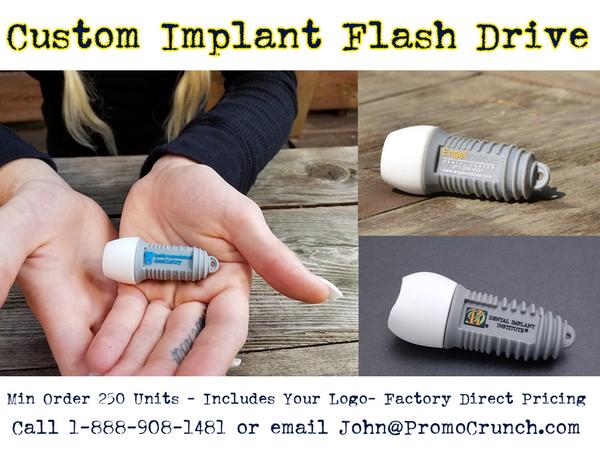 Price: Based Upon the minimum order of 250 units and an average memory size of 4 GB. Each unit is $6.48. Set Up/Personalized Mold is $80. Free Shipping.
If you'd like a FREE 3D DESIGN simply send us your logo and we will send you back a free design. Email us @ [email protected] or call 1-888-908-1481
PS: We have made these for Straumann!
Looking for Something Else for the Dental Professional? Check Out the Pop Collapsible Phone Holder for Smart Phones!
Thanks for your interest in Promo Motive and or Custom House Promo Crunch.
Other Custom Dentist Flash Drive Ideas!