Premium Quality Fidget Spinners Are The Most Effective Marketing Tool To Date. Get Your Logo On It Today!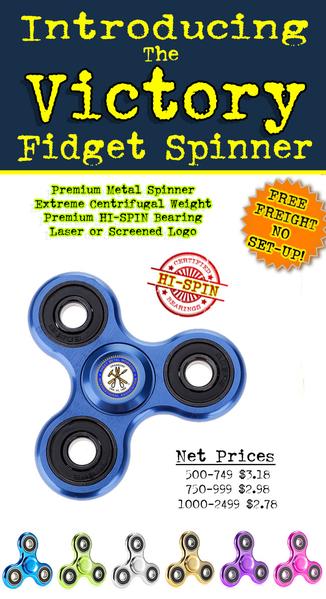 Ever feel like marketing your business on a pen or a business card isn't as effective as you'd like it to be? Are you looking for a new and useful promotional product that will be sure to WOW your customers? Then you have come to the right place!
These premium quality metal fidget spinners are all the rage right now. No matter where you go you will see or hear about them. So why not imprint your logo on a marketing product that guarantees your customers interest. These aren't your average fidget spinners, these are the highest quality on the market today.
Each spinner is professionally calibrated with CNC machined housing and features HI-SPIN bearings and a heavyweight centrifugal balance that guarantees the best quality. You can easily imprint your personalized logo on them and get them sent factory direct straight to your door.
Whether you have an upcoming tradeshow, event or conference don't miss out on this amazing promotional opportunity and get your logo on it today!