Premium Quality Metal Fidget Spinners Keep People From Getting Distracted. Get Your Logo On It Today!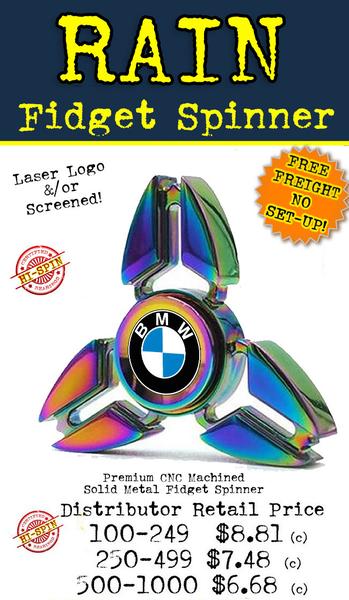 People are so easily distracted these days. It would be helpful if there was a tool that could keep people interested in business conferences, trade shows and events. Look no further! Fidget spinners are a new and popular tool for people with ADHD to help keep them focused and they are extremely fun to play with! If you want to stop people from getting distracted during your meetings then imprint your logo on promotional fidget spinners today and see how quickly people stay interested!
Each premium quality solid metal fidget spinner is professionally calibrated with CNC housing. These high quality products feature HI-SPIN bearings with a heavyweight centrifugal balance that keep your product working for a long time.
Imprint your personalized business logo on these premium quality metal fidget spinners today and use them as giveaways at your next tradeshow, conference or event. Get your logo on it today!