Join Hundreds Of Huge Companies And Imprint Your Logo On A Premium Quality Metal Fidget Spinner. Get Your Logo On It Today!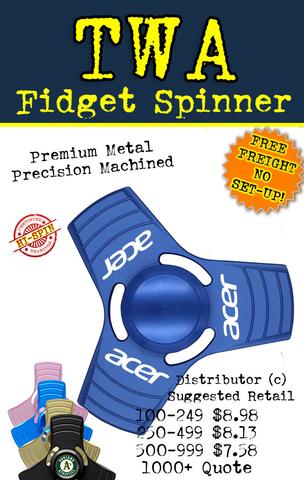 Every wonder how hundreds of big business come up with new and exciting ways to market their brand? What if I told you that you could promote your company in a similar way by imprinting your personalized logo on a premium quality metal fidget spinner. Wherever you go you will see or hear about the newest craze, fidget spinners! It is now easier than ever to use these as an effective promotional product for your brand.
Each metal fidget spinner is of the highest quality, is professionally calibrated and features HI-SPIN bearings with a heavyweight centrifugal balance so you know you are getting the best product on the market!
If you have an upcoming tradeshow, event or conference don't miss out on this amazing marketing opportunity and imprint your logo on a wholesale fidget spinner today!