Mokuru Fidget Sticks Are The Most Popular Promotional Tool On The Market. Get Your Logo On It Today!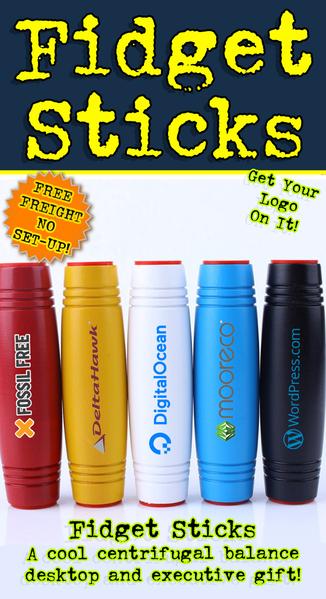 The Fidget Stick is an amazing, new, logo'd, desktop, promotional product designed to challenge your clients or your business staff's creativity, precision, and hand eye coordination.
Get Your Logo on it!
The Fidget Stick promotional product has its historic roots as a precision designed Adult Japanese Balancing Toy first referred to as Mukuru or Kururin. The Fidget Stick's history and tradition are shrouded in mystery.
The Fidget Stick. What at first seems simple, even a pedestrian idea for a promotional product is revealed to be a brilliant corporate marketing tool.
This uber-tactile balancing toy is a great way to engage clients, potential clients, staff, employees and contractors in a hands-on, interactive corporate engagement game.
The Fidget Stick is perfect to simply amuse the solitary persons' mind or engage a whole team in Fidget Stick corporate engagement game.
The Fidget Stick is one of America's emerging top fidget toys.
Never heard of it? Watch this video.